Web copy captures the brand essence of a creative agency
Click the image to enlarge
Creative Triangle – where design takes shape
You get more with Creative Triangle: big-brand experience, small-agency work ethic, straightforward value for money. There's no marketing jargon, just big ideas shaped to the needs of your brand and your audience.
We're easy to work with too. Not just because you'll know us all by name, but because we'll all know your business as if it were our own. You'll feel like we're all part of the same team.
Our clients are as varied, colourful, and eager as we are: public and private, blue chips and start-ups. Why not give us a call? You'll be talking to people who speak your language.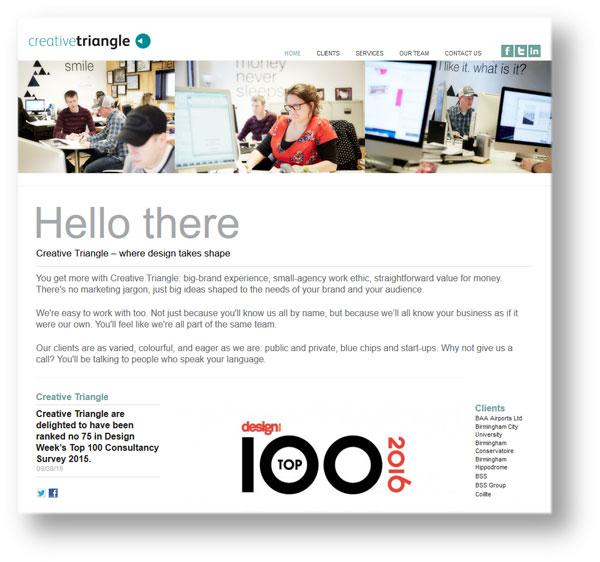 Creative Triangle is a small creative agency with plenty of clout. Clients voted them up to 4th place (for their size category) way back in the Drum's 2015 design-industry poll, and they've been winning awards every year since.
Freelance copywriting for the Creative Triangle team is pure pleasure. They're an unassuming, down-to-earth bunch who get on with the job. I've worked with them on so many projects, I had no trouble nailing what they stood for when I wrote their home page. The strapline 'where design takes shape' is mine too.
Update: when the website was recently redesigned, Creative Triangle once again turned to me for help with copy.
Text Wizard® is a registered trade mark
Text and images © 2000–2020
Text Wizard Copywriting Ltd