Selling a city: arts and culture copywriting
Click an image to enlarge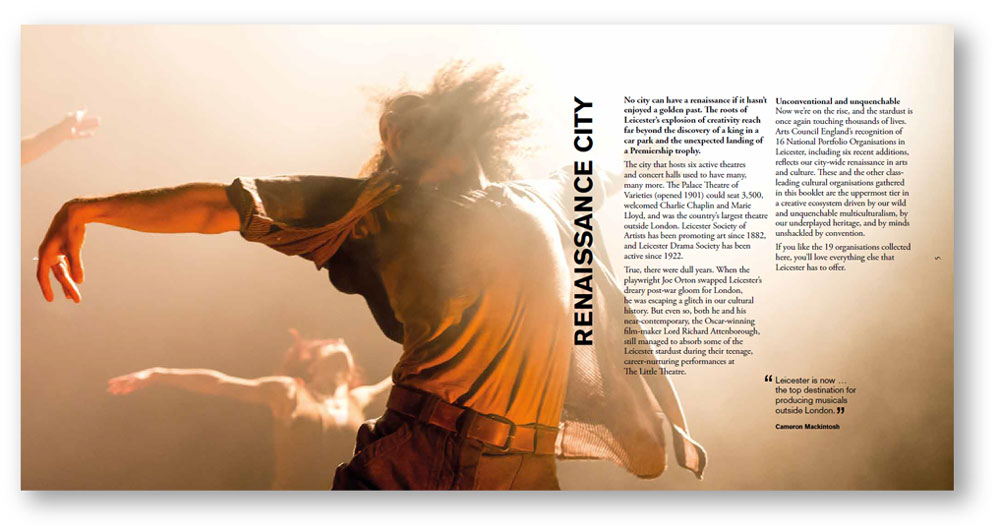 Renaissance city
No city can have a renaissance if it hasn't enjoyed a golden past. The roots of Leicester's explosion of creativity reach far beyond the discovery of a king in a car park and the unexpected landing of a Premier League trophy.
The city that hosts six active theatres and concert halls used to have many, many more. The Palace Theatre of Varieties (opened 1901) could seat 3,500, welcomed Charlie Chaplin and Marie Lloyd, and was the country's largest theatre outside London. Leicester Society of Artists has been promoting art since 1882, and Leicester Drama Society has been active since 1922.
True, there were dull years. When the playwright Joe Orton swapped Leicester's dreary post-war gloom for London, he was escaping a glitch in our cultural history. But even so, both he and his near-contemporary, the Oscar-winning film-maker Lord Richard Attenborough, still managed to absorb some of the Leicester stardust during their teenage, career-nurturing performances at The Little Theatre.
Unconventional and unquenchable
Now we're on the rise, and the stardust is once again touching thousands of lives. Arts Council England's recognition of 16 National Portfolio Organisations in Leicester, including six recent additions, reflects our city-wide renaissance in arts and culture. These and the other class-leading cultural organisations gathered in this booklet are the uppermost tier in a creative ecosystem driven by our wild and unquenchable multiculturalism, by our underplayed heritage, and by minds unshackled by convention.
If you like the 19 organisations collected here, you'll love everything else that Leicester has to offer.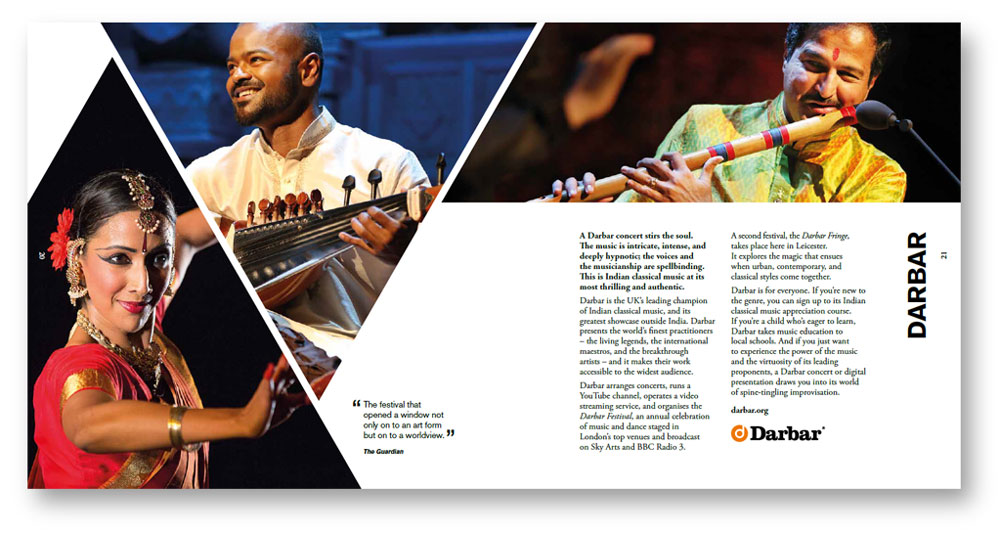 Darbar
A Darbar concert stirs the soul. The music is intricate, intense, and deeply hypnotic; the voices and the musicianship are spellbinding. This is Indian classical music at its most thrilling and authentic.
Darbar is the UK's leading champion of Indian classical music, and its greatest showcase outside India. Darbar presents the world's finest practitioners – the living legends, the international maestros, and the breakthrough artists – and it makes their work accessible to the widest audience. Darbar arranges concerts, runs a YouTube channel, operates a video streaming service, and organises the Darbar Festival, an annual celebration of music and dance staged in London's top venues and broadcast on Sky Arts and BBC Radio 3. A second festival, the Darbar Fringe, takes place here in Leicester. It explores the magic that ensues when urban, contemporary, and classical styles come together.
Darbar is for everyone. If you're new to the genre, you can sign up to its Indian classical music appreciation course. If you're a child who's eager to learn, Darbar takes music education to local schools. And if you just want to experience the power of the music and the virtuosity of its leading proponents, a Darbar concert or digital presentation draws you into its world of spine-tingling improvisation.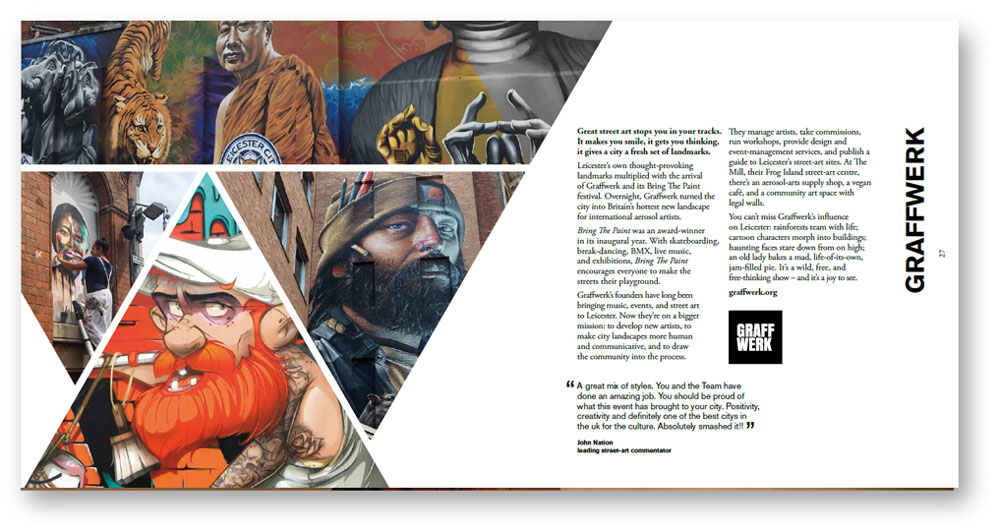 Graffwerk
Great street art stops you in your tracks. It makes you smile, it gets you thinking, it gives a city a fresh set of landmarks.
Leicester's own thought-provoking landmarks multiplied with the arrival of Graffwerk and its Bring The Paint festival. Overnight, Graffwerk turned the city into Britain's hottest new landscape for international aerosol artists.
Bring The Paint was an award-winner in its inaugural year. With skateboarding, break-dancing, BMX, live music, and exhibitions, Bring The Paint encourages everyone to make the streets their playground.
Graffwerk's founders have long been bringing music, events, and street art to Leicester. Now they're on a bigger mission: to develop new artists, to make city landscapes more human and communicative, and to draw the community into the process. They manage artists, take commissions, run workshops, provide design and event-management services, and publish a guide to Leicester's street-art sites. At The Mill, their Frog Island street-art centre, there's an aerosol-arts supply shop, a vegan café, and a community art space with legal walls.
You can't miss Graffwerk's influence on Leicester: rainforests team with life; cartoon characters morph into buildings; haunting faces stare down from on high; an old lady bakes a mad, life-of-its-own, jam-filled pie. It's a wild, free, and free-thinking show – and it's a joy to see.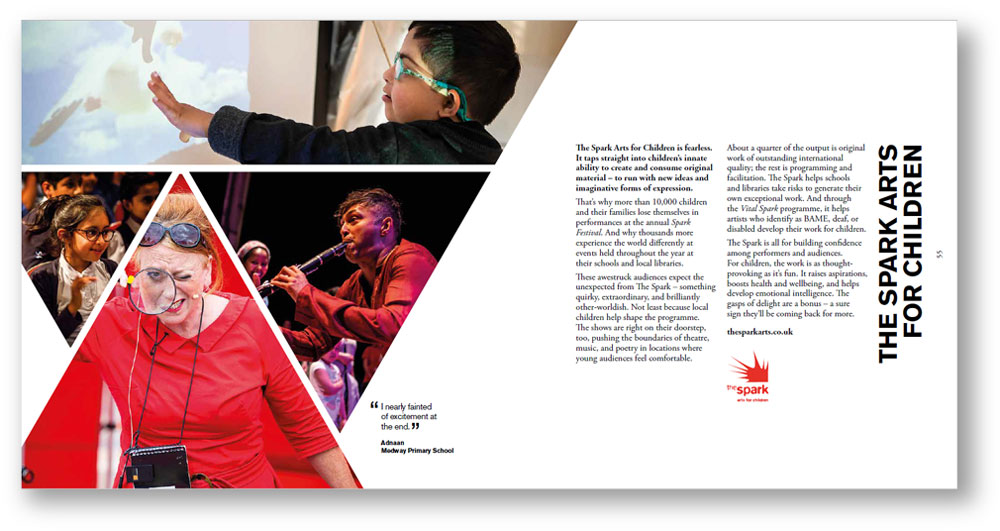 The Spark Arts for Children
The Spark Arts for Children is fearless. It taps straight into children's innate ability to create and consume original material – to run with new ideas and imaginative forms of expression.
That's why more than 10,000 children and their families lose themselves in performances at the annual Spark Festival. And why thousands more experience the world differently at events held throughout the year at their schools and local libraries.
These awestruck audiences expect the unexpected from The Spark – something quirky, extraordinary, and brilliantly other-worldish. Not least because local children help shape the programme. The shows are right on their doorstep, too, pushing the boundaries of theatre, music, and poetry in locations where young audiences feel comfortable.
About a quarter of the output is original work of outstanding international quality; the rest is programming and facilitation. The Spark helps schools and libraries take risks to generate their own exceptional work. And through the Vital Spark programme, it helps artists who identify as BAME, deaf, or disabled develop their work for children.
The Spark is all for building confidence among performers and audiences. For children, the work is as thought-provoking as it's fun. It raises aspirations, boosts health and wellbeing, and helps develop emotional intelligence. The gasps of delight are a bonus – a sure sign they'll be coming back for more.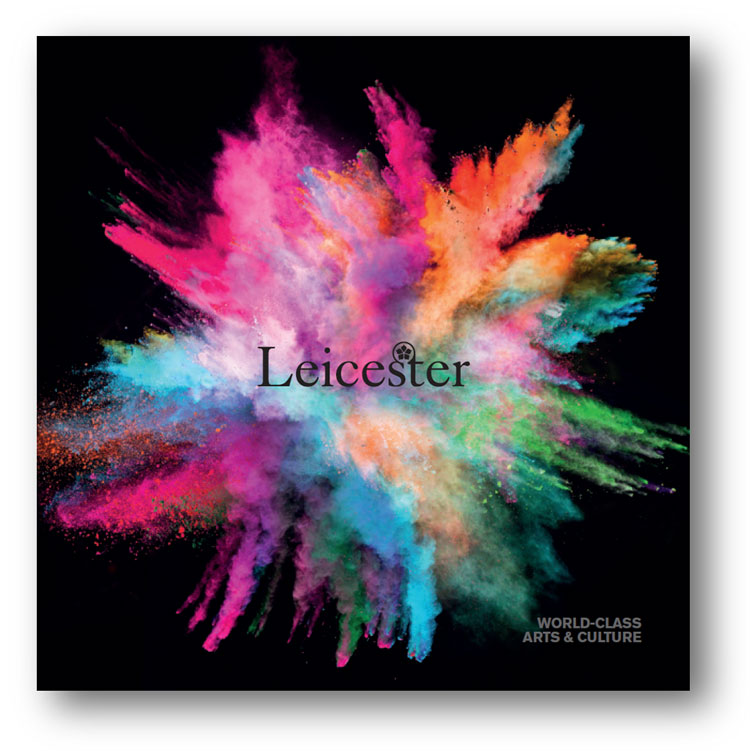 Leicester has undergone a cultural renaissance. During the most recent round of Arts Council funding, its arts organisations earned a bigger increase in funding than any other city in the UK – roughly four times the national average. To raise the city's cultural profile and encourage incoming investment, the city council invited pitches from design agencies to produce a celebratory document that they described as a prospectus.
The delightful people at Creative Triangle asked me to be their copywriting pitch partner. I put some arts and culture copywriting ideas together, dressed up sharp, and helped them win the face-to-face pitch. The brief was to communicate surprise at the breadth, quality, and international reach of Leicester's artistic output. That was enough to set the tone, construct a questionnaire for the 19 featured organisations, and do the background research into the organisations, the thematic pages, and Leicester's cultural history.
The finished piece is refreshingly non-corporate. The council gave me a free hand to develop a cultural copywriting style that would appeal to all audiences, from people considering Leicester for a night out to CEOs of organisations wanting to relocate to the city. I even drafted the Mayor's foreword, which he approved without change.
Text Wizard® is a registered trade mark
Text and images © 2000–2020
Text Wizard Copywriting Ltd