Web and press-release copywriting for the Swiss Army Knife
Click the image to enlarge
Victorinox Huntsman Swiss Army Knife
Hunting may be out of favour, but the instinctive, man-against-nature mindset isn't. Even if you're going no further than the bottom of the garden.
Wherever you are, there are berries to be picked, timbers to be sawn, and food to be sliced – as well as an endless stream of indoor and outdoor repairs. The Victorinox Huntsman does them all; it's the pocket knife of choice for the modern-day hunter-gatherer.
Since every wild outdoor foray ends with a hearty meal, the Huntsman Swiss Army Knife doubles as a cook's assistant. It opens tins and bottles, and trims the waste from your gathered fruits and mushrooms. It'll even help with repairs to leather belts and broken kitchen equipment.
The Victorinox Huntsman reminds you of your primeval past. You may do most of your hunter-gathering in your local supermarket, but you'll always come home a hero if, somewhere along the way, you found a use for your Huntsman Swiss Army Knife.
Personalised Swiss Army Knives for Father's Day secret adventurers
For dads who secretly fancy themselves as men of action (which is most of them), the personalised Swiss Army Knife is a badge of pride. So many tools and gadgets tucked away in that neat little pocket knife – the only one to bear the iconic shield-and-cross insignia and a personal message. Whatever dad gets up to on Father's Day, with a personalised Swiss Army Knife in his pocket, he'll do it with a knowing, ready-for-anything wink.
Personalisation brings out the inventiveness in his family and fans: "Our fantastic Mr Fixit", "Barbecue burgermeister", "Thanks for fixing my world", "Dad's got a screw loose".
Whatever adoring partners and kids want to say, they can say it better on a personalised Swiss Army Knife from swisstool.co.uk. With up to 25 characters on the front and 32 on the back, SwissTool personalisation provides space for all the love, private jokes, or good-natured put-downs a family can invent.
This is the Father's Day gift that will be ready in plenty of time for Father's Day. With express delivery from swisstool.co.uk, a personalised Swiss Army Knife can be in a deserving father's hands the very next day. Non-urgent orders for personalised knives take four to six days with first-class postage or seven to ten days with free delivery.
A Swiss Army Knife from swisstool.co.uk is a great value Father's Day gift. Knives range in price from £14.98 to £44.99. Personalisation costs just £4.95 for a single message on one side of the knife or different messages on both sides. Swiss Army Knives come in six colours including Original Red, and there are seven fonts to choose from for expressing a giver's personal message.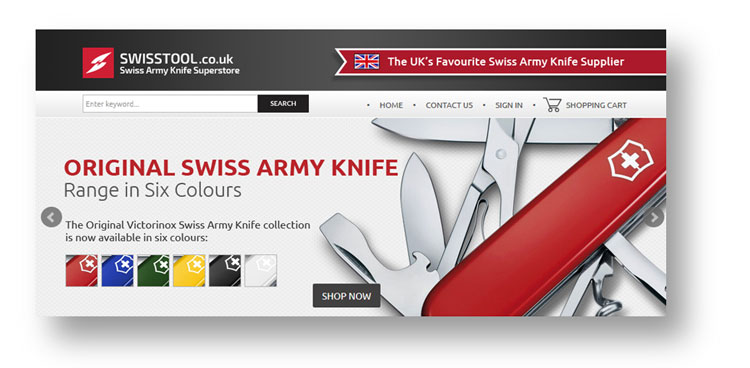 SwissTool has been selling Swiss Army Knives online since 2000. But one thing the website lacked was a description for each of the 14 styles of knife. I'm a keen wielder of pocket knives, so I slashed my way into this project with all the sharp-edged enthusiasm of a Bear Grylls. If you've ever whittled a stick into a stake or used your flip-out corckscrew to rescue a dry barbecue, you'll know where this multi-bladed copywriter is coming from.
I've been back several times since: to write a piece for a Guardian advertising feature, to develop a guide to all the blades and tools in the range, and to rattle off a press release promoting SwissTool personalisation for Father's Day. This copy is for armchair adventurers everywhere.
Text Wizard® is a registered trade mark
Text and images © 2000–2020
Text Wizard Copywriting Ltd