We Brits are too polite. When something isn't as it should be, we apologise. It's a knee-jerk reaction. But in business it's just wasted words. And usually completely insincere.
Think of all those times you've stood on a railway platform listening to announcements about delayed trains. The bad news invariably ends with a meaningless piece of corporate hand-wringing – something along the lines of 'Ever-so-polite Rail apologises for any inconvenience caused'.
Apologies: no. Brilliant customer service: yes.
What customers want are facts:
When will the train arrive?
Will the driver be able to make up for lost time?
Are they laying on a bus service instead?
What's causing the delay?
Is there a website offering more detail?
This is useful information. It helps delayed travellers adapt to the circumstances. And it tells them that the rail operator is on top of the situation. It's brilliant customer service at a time when customers need it most.
Instead we get this sort of thing – coincidentally from a rail operator.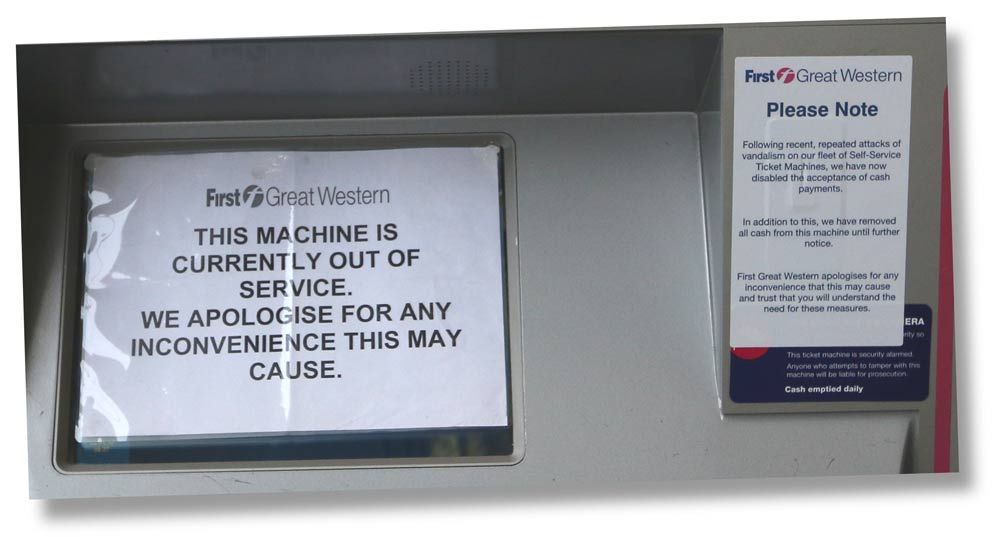 It's a self-service ticket machine plastered with apologies. The one on the right says they've disabled the machine and removed the cash because they're the victims of a spate of vandalism. Annoying, but understandable.
What they're not telling us is how they're making things better. No reference to more staff and speedier service in the ticket office, and no hint of when better, vandal-proof machines might be on the way. We're left in limbo: useless machine, possibly for months to come, and potentially huge queues at the ticket office. But that's alright because they've apologised.
Who apologises for doing good?
Actually lots of organisations. Here are two examples. One's from those archetypal do-gooders, the National Trust; the other's from East Devon District Council.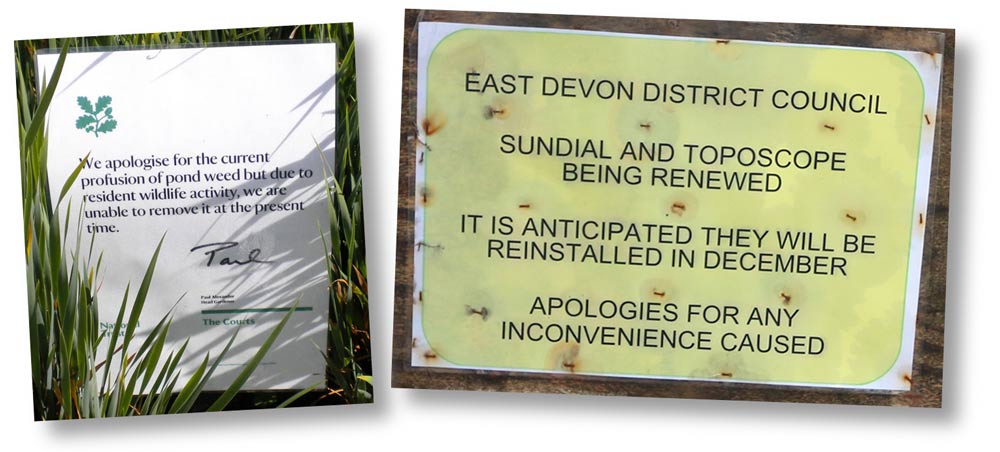 Forget the apologies; the NT and East Devon should be celebrating their actions. Both events are opportunities to tell visitors how they're caring for (a) their wildlife and (b) their local features.
(a) Why isn't the National Trust making visitors feel good about the pondweed?
What wildlife are we talking about?
How does the pondweed help?
Where can we learn more about these creatures?
When will they be cutting the weed?
(b) Why isn't East Devon celebrating its custodianship of local heritage?
How are they repairing them?
What's the history or significance of these two objects?
Is there a website where we can see what they look like?
How much better will they be when they come back?
But their signs leave visitors flat: "Shame you didn't come on a different day because you might have enjoyed yourselves. Sorry."
Should you ever apologise?
Of course you should – for actions that are a cause for shame rather than celebration. When banks cheat their customers … when utilities overcharge … when multinationals pay less tax than a teacher. And these, as we all know, are activities no one ever apologises for. Instead we have routine apologies for everyday events written by staff on autopilot.
Neither you nor I can fix the big stuff, but we copywriters can all replace the autopilot apologies with a few words of decent customer service. We might even earn a brownie point or two.
[Article originally published on LinkedIn in 2017]