Copywriting gives you complete freedom to say whatever you think your audience would love to hear. No other tool in your marketing toolbox is as quick, easy, and versatile. But even marketing people can be constrained by what they think the medium demands. My recent experience of advertising in
Bristol Life
is a lesson in what can go wrong.
Bristol Life is a glossy Bristolian lifestyle magazine. Once a year it publishes a 'Meet the Agency' advertising feature. The format is simple: you take a quarter or half page for which you submit a photograph and some copy. Your text has to be in the form of a Q&A, presumably to make it look like a Bristol Life journalist really has interviewed you.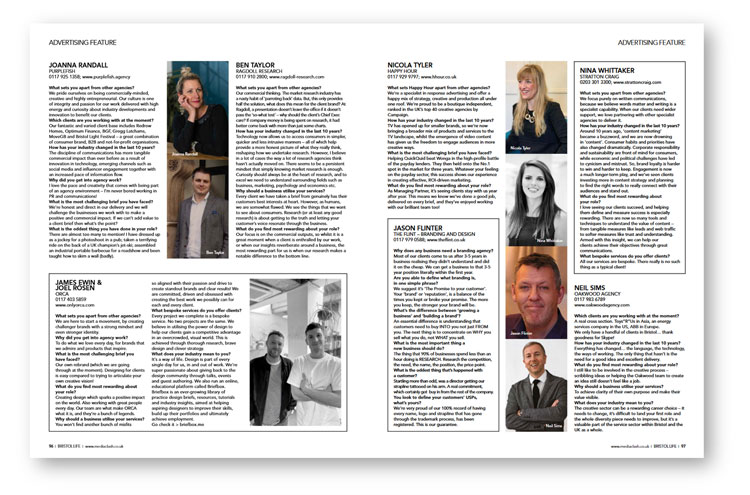 Don't forget the fundamentals
Although advertisers represent the whole range of marketing, digital, and PR agencies, there's nothing in the format to say what each one does. If an advertiser doesn't spell it out, no one else will.
Seems obvious … but more than a third of participating agencies didn't say what they do, or merely mentioned it in passing in the second or a later question. They banged on about  their "adaptability and flexibility" and their "real, honest relationships", but never said what type of clients they wanted a relationship with.
Your starter for ten
To make things easy for advertisers, the editorial team at Bristol Life came up with a list of ten sample questions. Most touched on the sort of inward-looking, naval-gazing topics ('Why did you get into agency work?', 'What is the oddest thing you have done in your role'?, 'What does your industry mean to you'?) that encourage you to talk about yourself, not your clients. Advertisers did, however, have the freedom to compose their own questions.
My response was to bin the lot and start afresh. I retained just one question ('What sets Text Wizard apart?') in case I might look like I didn't belong in the feature.
My opening question ('Why words and nothing else?') explains what this Bristol copywriting agency does in just five words. It fixes the problem of not having a sector, and invites me to say why 'words and nothing else' is good for clients.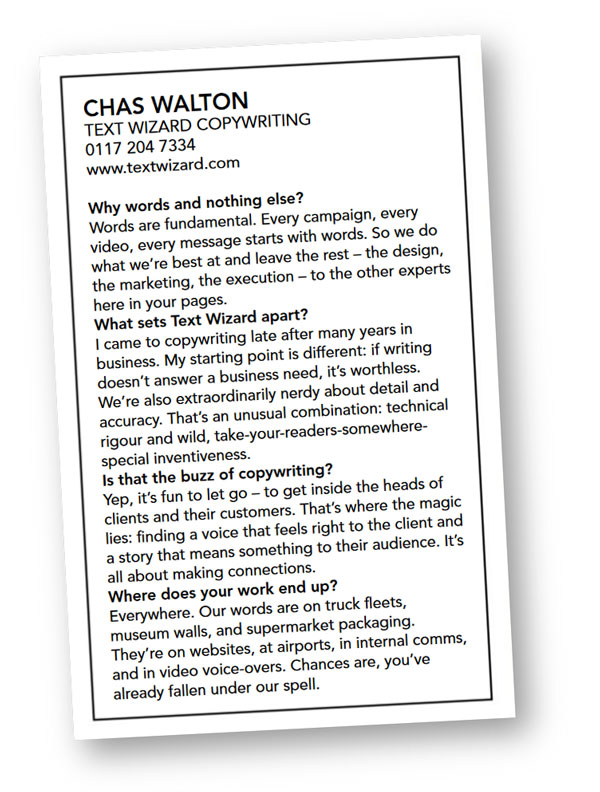 Even marketing people can act like sheep
The big surprise was that nearly all advertisers relied entirely on the sample questions. One advertiser (the free-thinking Jason Flinter of The Flint) wrote all his own questions; a couple of others introduced one or two of their own. Everyone else trotted sheeplike into the ring of ready-made questions.
Most began with the same question: 'What sets you apart from other agencies'? One of them answered with: "All agencies will say they are different, but most agencies aren't".
The result of all this repetition is a feature that sounds a bit precious and weirdly unimaginative – and which is entirely unrepresentative of the Bristol agency scene. In real life those advertisers are wildly inventive. In this case they were seduced by the format. They allowed themselves to write to fit a scheme, instead of writing to make a connection.
You can do anything with words. So long as you write your own rules.
See the Bristol Life 'Meet the Agency' feature for yourself (pages 95 to 103).